Naya Marie Rivera
was born on January 12, 1987, and is an American singer, song-writer, actress, and a model. She is best known for her role in the musical comedy series
Glee, 
as 
Santana Lopez
.
Early Life
Edit
Rivera was raised in Valencia, Santa Clarita, California and has lived in or around Los Angeles for most of her life. She is of half Puerto Rican, quarter African American, and quarter German descent. Her parents are George and Yolanda Rivera. At eight or nine months old, Naya began to be represented by the same talent agent as her mother, who had moved to Los Angeles to pursue modeling. She is the oldest of three in the family. She has a brother named Mychal Rivera and a sister named Nickayla Rivera.
As a baby, Rivera appeared in commercials for Kmart, but her first significant acting job was at the age of four when she starred as Hillary Winstonin the Eddie Murphy produced sitcom The Royal Family in 1991.
Between 1992 and 2002, she had small roles in The Fresh Prince of Bel-air, Family Matters, Live Shot, Baywatch, Smart Guy, The Jersey, House Blend, Even Stevens, and The Master of Disguise. She was hired for a single episode guest appearance on The Bernie Mac Show in 2002, but she was brought back to work on a further ten episodes throughout all five seasons. She was later featured in episodes of 8 Simple Rules and CSI: Miami. In between auditions and roles, Rivera worked odd jobs as a telemarketer, a nanny, and a greeter at an Abercrombie & Fitch store. In 2006 and 2007, Rivera took part in a production of Mark E. Swinton's play U Don't Know Me: The Musical, both in Los Angeles and when the production was taken on national tour.       
In 2009, Naya was cast as Cheerios cheerleading squad member Santana Lopez on Fox's musical comedy series Glee, about a high school glee club. Rivera's character comes off as a cold-hearted and vicious cheerleader, who often shows her softer side to fellow cheerleader Brittany S. Pierce (played by Heather Morris). Rivera auditioned for the opportunity "to sing, dance, and act all in the same show," and because she was a fan of co-creator Ryan Murphy's previous work on Nip/Tuck.
Personal Life
Edit
Rivera is an avid reader and dedicates her time to various charitable organizations, including GLAAD, The Trevor Project, and The Sunshine Foundation. She took up song-writing at the age of 15. According to Rivera, "My passion for music is one of my greatest loves." Rivera has stated that if she could not act or sing she could work as a writer. She has completed several screenplays and television scripts.
Rivera's brother, Mychal, is a college football player, a tight end for the University of Tennessee, their sister is Nickayla which is a model.
On April 9, 2013 she and Big Sean are seen held hands, so they are dating.
Rivera noted in an interview with Latina magazine that she was raised a devout Christian but is very private about it,  noting the conflict that can result from revealing such information. "It's hard and sort of sad that you do feel the need to tread lightly when you say, 'Yes I do go to church, and yes I do read the Bible' because once you do that, people will be like, 'Why are her boobs out? Why is her midriff showing? Why is she playing a lesbian?' I don't wanna deal with that stuff, so I've never really discussed it, it's very personal."
Filmography
Edit
Film

| Year | Title | Role | Notes |
| --- | --- | --- | --- |
| 2002 | The Master of Disguise | Captain America Kid | Deleted Scene |
| 2009 | Frankenhood | Hottie | Credited as Naya Maria Rivera (Maria was a typo) |
| 2011 | Glee: The 3D Concert Movie | Santana Lopez | 3D Concert Film |
| 2013 | The Naughty List | Sparkle | |
| 2014 | Home | Vera  | |
Television
Year
Title
Role
Notes
1991–1992
The Royal Family
Hillary Winston
Regular role
1992–1993
Family Matters
Gwendolyn
Episodes: "Just One Date," "Heart Strings," "Mama's Wedding"
1993
The Fresh Prince of Bel-Air
Cindy
Episode: "Bundle of Joy"
1993
The Sinbad Show
Party Guest
Episode: "It's My Party, I'll Cry If I Want To"
1995
Live Shot
Ann
Episode: "Another Day, Another Story"
1996
Baywatch
Willa
Episode: "Scorcher"
1997–1999
Smart Guy
Kelly
Tanya
Episodes: "Baby, It's You and You and You," "Never Too Young"
1999
The Jersey
Girl #2
Episode: "Be True to You"
2002
House Blend
Chloe
Pilot
2002
Even Stevens
Charlene
Episode: "Short Story"
2002–2004
Pajama Rama
Herself
Host
2002–2006
The Bernie Mac Show
Donna
Recurring role
2003
Soul Food
Lauryn
Episodes: "Truth's Consequences," "Nobody's Child"
2004
8 Simple Rules
Nice Girl
Episode: "Halloween"
2008
Girlfriends
Young Lady
Episode: "Stand and Deliver"
2008
CSI: Miami
Rachel Calvado
Episode: "Power Trip"
2009–present
Glee
Santana Lopez
Season 1: recurring cast member
Seasons 2 - 4: regular cast member

2012
The Glee Project
Herself
Guest Star (Season 2, Episode 4 "Sexuality")
2012
This Is How I Made It
Herself

Episode 3

2013
Fashion Police
Herself
Guesr Star
Her vital statistics are 34-22-32.
She has a brother named Mychal Rivera, 22 and a sister named Nickayla Rivera, 18.
Her nicknames are NayNay, Bee, Nay Nay Rivers, Na Nay, Little Bee, and the Veiled Fairy.
Had a crush on Robin Thicke.
She likes Sushi and Mexican food.
Her favorite color is pink.
Her favorite band is Coldplay
Has an iPhone.
She loves to read
Is a fan of Nip/Tuck.
Has a Cavalier King Charles puppy named Lucy Ann Rivera
She worked on Hooters
Has a video of "Naya Dance" that has been on Youtube.
Made the cathphrase "Wanky."
She is the only left-handed cast member.
She's 5'5 feet tall (165 cm).
Her first concert was No Doubt.
She's a very good impersonator.
Got a record deal.
Favorite animal was a penguin.
She watches Pretty Little Liars.
She is best friends with Heather Morris.
Has dated  glee writer Matthew Hodgson.
Her fans are called "Nayaholics".
One of her best friends is Kat Grahram from The Vampire Diaries.
She and Big Sean announced their engagement in October 2013 [1]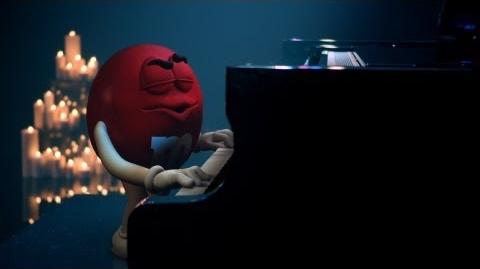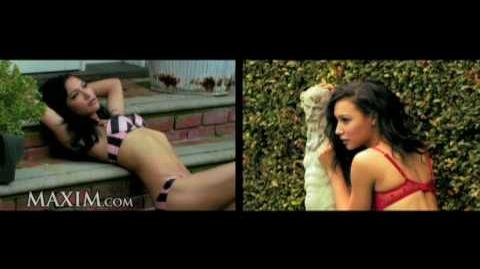 Ad blocker interference detected!
Wikia is a free-to-use site that makes money from advertising. We have a modified experience for viewers using ad blockers

Wikia is not accessible if you've made further modifications. Remove the custom ad blocker rule(s) and the page will load as expected.