More Than Words
was featured in the eighteenth episode of Glee,Shooting Star.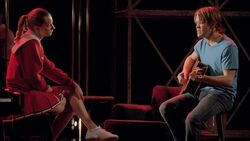 The main soloists are
Brittany
and Sam. The New Directions perform back-up vocals (excluded Joe, Ryder and Sugar).
Brittany and Sam decide together to bring Lord Tubbington to school and sing about how much Brittany loves him. As Sam plays the guitar, the lights in the auditorium light up the stage as Brittany is seated opposite him on a stool. New Directions start entering the auditorium, holding candles, and lighting each one with a flame. Sam sings as Brittany joins the duet eventually with New Directions helping with back-up. The New Directions seem to be confused as Brittany serenades her cat.
Sam:
Saying 'I love you'
Is not the words I want to hear from you
It's not that I want you
Not to say, but if you only knew
How easy it would be to show me how you feel

Brittany and Sam:
More than words is all you have to do to make it real
Then you wouldn't have to say that you love me
'Cause I'd already know

Sam with New Directions:
What would you do

Brittany with New Directions:
If my heart was torn in two

Brittany and Sam with New Directions:
More than words to show you feel
That your love for me is real
What would you say if I took those words away
Then you couldn't make things new
Just by saying 'I love you'
La de da la de da
Da de da da da
More than words
La de da la de da

Brittany with New Directions:
Now that I've tried to

Brittany and Sam with New Directions:
Talk to you and make you understand

Brittany with New Directions:
All you have to do is

Brittany and Sam with New Directions:
Close your eyes
And just reach out your hands and touch me
Hold me close don't ever let me go
More than words is all I ever needed you to show
Then you wouldn't have to say that you love me
'Cause I'd already know

What would you do if my heart was torn in two
More than words to show you feel
That your love for me is real
What would you say if I took those words away
Then you couldn't make things new
Just by saying 'I love you'